#BoyCottBlizzard – Blizzard faces Backlash over Punishing a Hearthstone Pro Player for Comments made in Support of Hong Kong
October 10, 2019
On October 5, 2019, Blizzard banned Pro Hearthstone player Ng Wai "blitzchung" Chung in competing for further Hearthstone esports events for violating official Hearthstone competition rules as stated in the 2019 Hearthstone Grandmasters Official Competition Rules section 6.1

Section 6.1 states:
Engaging in any act that, in Blizzard's sole discretion, brings you into public disrepute, offends a portion or group of the public, or otherwise damages Blizzard image will result in removal from Grandmasters and reduction of the player's prize total to $0 USD, in addition to other remedies which may be provided for under the Handbook and Blizzard's Website Terms. 
During the last weekend of the Hearthstone Grandmasters regular season, blitzchung finished his match with a victory and proceeded to a post-game interview. During the interview, Blitzchung was wearing a gas mask and after removing his mouth piece, said loudly in Chinese "Liberate Hong Kong, revolution of our age!" while the casters who were interviewing him hid behind their desks.

Footage of the interview segment can be seen here:
https://twitter.com/InvenGlobal/status/1180954142396710912
In response to the interview, the entire match's official VOD was taken down. Blizzard has not only removed blitzchung from competing in Hearthstone Grandmasters but has also banned him from in competitive Hearthstone for a year, starting on October 5, 2019 until October 5, 2020. Additionally, blitzchung will receive no prize money for his participation in Grandmasters.
Community Reactions and Protest against Blizzard and Hearthstone
Follwing Blitzchung's ban for his comments in support of Hong Kong, users from various forms of social media highly criticised Blizzard for their actions, calling out the company as "sell outs to China", and well as calls for action to boycott Blizzard while voicing their own support to Hong Kong.
Ever since Blitzchung's ban, another protest has happened in another Hearthstone stream. After the end of the match, a collegiate team held up a sign that says "Free Hong Kong, Boycott Blizz"
Not even Overwatch, another game developed and published by Blizzard was safe from the string of events. Many netizens have started to use Mei as a symbol of freedom for Hongkong, or in other regards, some fans are trying to get Overwatch banned in China by using Mei, one of the game's characters, as a symbol for Hong Kong's freedom. Not all of Blizzard or those involved with them agree
Not all of Blizzard, and those involved with Blizzard's games, agree of Blitzchung's banning for his statements in support of Hong Kong's freedom. Some unhappy Blizzard employees have decided to show their disagreement with their own company as well.
Hearthstone shoutcaster Brian Kibler has offered his own statements regarding Blizzard's banning of Blitzchung. Full details of his statements can be read here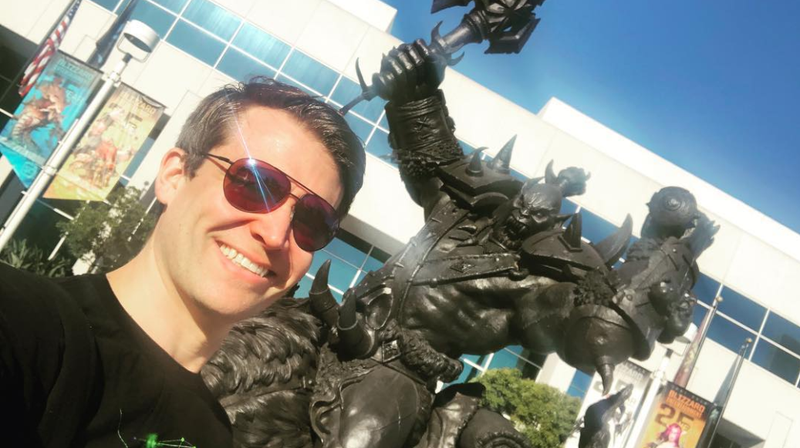 I want to start by saying that I feel what Blitzchung did was very brave. He knew that his actions would likely have serious consequences, not just for his future in Hearthstone but possibly even for his personal safety, and I commend him for the fortitude that takes.
Even so, I do think that Blizzard was correct in issuing him a penalty for his actions. They do not want to set the precedent for their official broadcasts being used as political tools. The players agreed to particular rules for behavior, and he violated those rules.

I have seen many descriptions of the situation claim that Blizzard took action against Blitzchung "for his support of the Hong Kong protests", but that's not an entirely accurate description. They did not penalize him for his political stance — they penalized him for breaking the rules by using their official broadcast to promote that stance.
Although Kibler did agree that penalising Blitzchung was appropriate for keeping up with tournament rules, he did state the following
The punishment meted out to Blitzchung is incredibly harsh. I could understand a fine, or even a short suspension from competitive play, but removal from Grandmasters, clawing back the prizes he already earned, and banning him for a full year seems completely overboard to an extent that feels completely unwarranted and unfair.

That kind of appeasement is simply not something I can in good conscience be associated with. When I learned about the ruling, I reached out to Blizzard and informed them that I no longer feel comfortable casting the Grandmasters finals at BlizzCon. I will not be a smiling face on camera that tacitly endorses this decision. Unless something changes, I will have no involvement in Grandmasters moving forward

I won't pretend to understand either the intricacies of the geopolitical situation in China and Hong Kong or the full extent of Blizzard's business interests there, but to me this penalty feels like it is deeply rooted in both. The heavy-handedness of it feels like someone insisted that Blizzard make an example of Blitzchung, not only to discourage others from similar acts in the future but also to appease those upset by the outburst itself.

In his final statement, Brian Kibler decides to step down from shoutcasting the Grandmasters finals at Blizzcon.
Blizzard's penalisation and banning of Blitzchung for his statements supporting Hong Kong and its current political issues against China have grown outside just Hearthstone and the general gaming public. Political figures have also joined in the discussion.
As of the writing of this article, #BoyCottBlizzard is one of the trending terms in twitter.